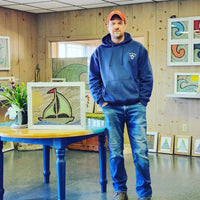 Harborside Rope Works
My name is Chris Vasconcelos and I have been Up-cycling derelict fishing and lobster trap line since 2016. I took my two young sons to the beach one day to help clean up litter and realized most of what we picked up could be re-purposed.
I was awarded a U.S. Copyright for my Rope Waves and sell Harborside wholesale to over 25 coastal boutiques in 18 states across the country. I strive to make a high-quality product using recycled materials along with providing the best customer service possible. Grab a Harborside Rope Painting™ before it washes away!
Harborside Coastal Collections
Testimonials
A clever and unique way to create beauty. Crafted with talent and a great compliment to the classic beach house feel. Nice work!

Jack Resendes
Absolutely love my new recycled rope art! Chris made a custom size and even delivered it to my house! I'm so happy to be the first Rhode Island customer!

Natalie Sullivan
Chris we LOVE the custom piece you did for Sol-Haven! www.solhavenma.com

April Pool Briner